When a client places a lab-based order*, you'll be required to approve it for printing. 
Orders that are waiting for submittal to the lab are marked as Awaiting Studio in the Lab Progress column of the Orders page.
*This is currently only available for the U.S., Canada, Australia, New Zealand, the U.K., Ireland, France, Germany, Luxembourg, Sweden, Denmark, Netherlands, Norway, Belgium, Italy, Austria, Finland, Poland, Slovenia, Spain, Greece, Switzerland, Czech Republic, Romania, and Latvia-based studios. 
To approve an order to be sent to the lab, follow these easy steps:
1. Go to Commerce > Orders
2. Click on the specific order (or search for it using the Search button)
3. Make optional updates to the order:
Click the blue Edit button on an item to change the item, update the item quantity, and add applicable mounting and/or texture 


Click Replace below a photo to swap out the file that will be printed
 
4. Click the photo in the Crop column to adjust the crop for that specific item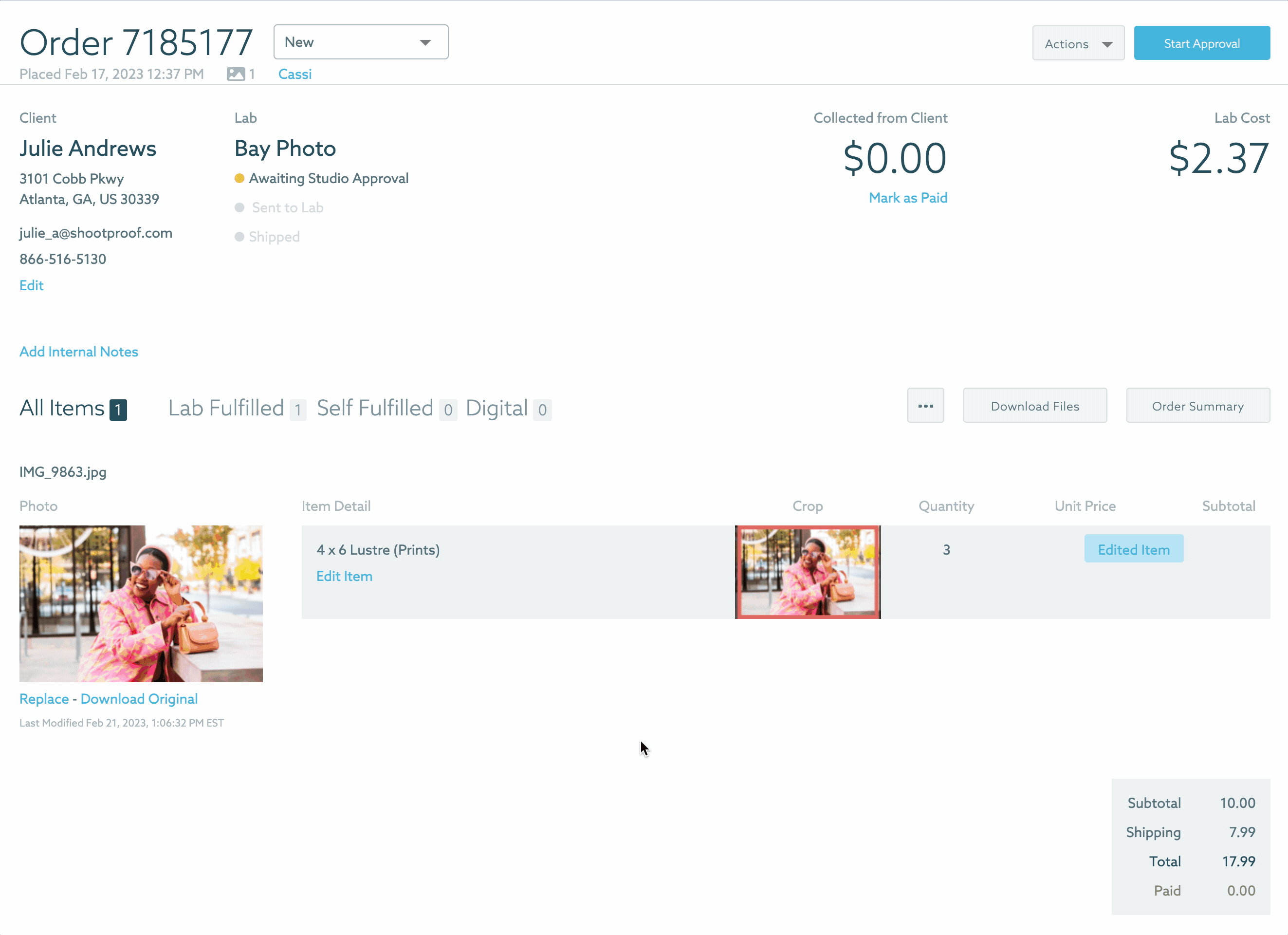 5. Once you're ready to send it to the lab, click Start Approval and go over the options on this page:
Check the box confirming that you have checked the crops
Add optional Boutique Packaging and Color Correction to the order*
Change the shipping from what the client selected*
Choose a shipping address (the address the client entered, your studio address on file, or an alternate address of your choice)


9. Click Send to Lab
*Any additional costs from these options will be added to the Balance Due for the order as Lab Add-Ons
Note that once an order is approved to be printed at the lab, it cannot be canceled or changed.
 
If for some reason you need to change an order from lab-fulfilled to self-fulfilled after the client places the order, you can learn how to do that here.
If you would like to enable Auto-Approval for your lab orders, you can learn how here.