To see information about your payouts from ShootProof Pay, go to Account (that tiny head and shoulders button in the very top right of your account) > Accept Credit Cards > View Account.
In this article, you'll learn about:
Setting up and editing Payout Preferences
Negative ShootProof Pay balances
Payout Availability
Payments processed through ShootProof Pay become available for automatic electronic transfer to your bank account 2-5 business days on average following the sale (business days exclude weekends and bank holidays). 
The fulfillment type of an order will determine when the actual charge takes place to the client's card, which will affect when the payout for an order will 
When clients place an order with any lab-fulfilled items in it, their card will not be charged until the order is approved to go to the lab. The availability date of those funds is based on the date and time that you approve the order.
When clients place an order that does not contain any lab-fulfilled items or pay an invoice, their card will be charged when they submit the order or invoice payment. The availability date of those funds is based on the date and time that the invoice payment is made or the order is placed.
Once the payment is processed successfully, you'll see the funds reflected in ShootProof Pay.
Setting up and editing Payout Preferences
When you set up ShootProof Pay, you'll be asked to select a Payment Schedule and connect a bank account. Payouts of all available funds will automatically occur at 00:00:00 UTC (8pm ET), according to your selection:
Daily - payouts of available funds occur daily

Weekly - payouts of available funds occur every Monday

Monthly - payouts of available funds occur on the 1st of each month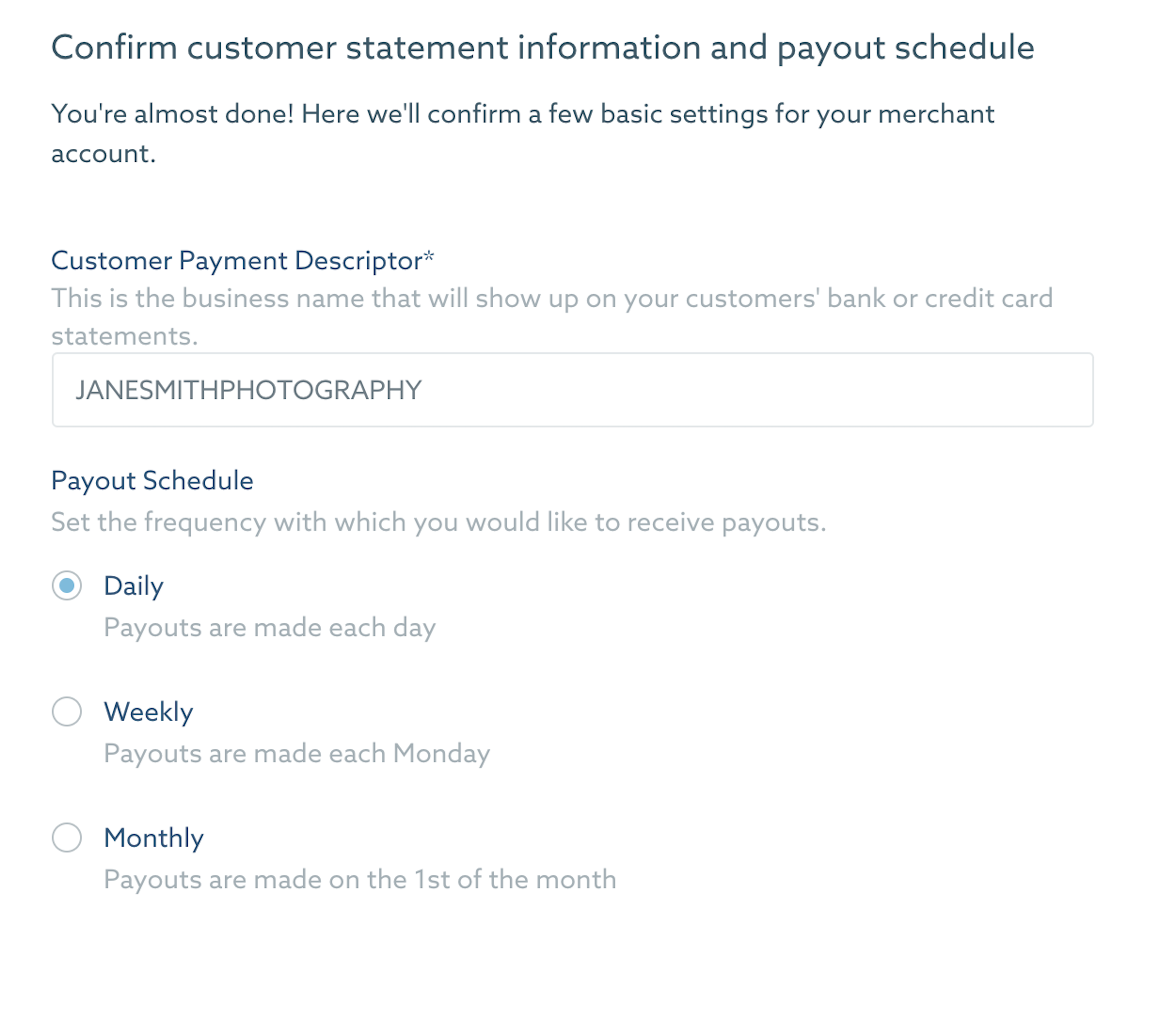 You may adjust the payout schedule at any time in the ShootProof Pay settings. Click the account icon at the top right > Accept Credit Cards > View Account > Settings > Payout Settings > Adjust your Payout Schedule > Save.
Viewing your payouts
To view your Payouts, click Accept Credit Cards > View Account > Payouts
Payouts will fall under one of these statuses:
Pending - A payout is pending when Stripe prepares to submit it to the bank. After it has been submitted to the bank, it gets marked as In Transit.
In Transit - Payouts are In Transit when they have been created in Stripe but have not yet been marked as Paid in Stripe.
Paid - This payout has been marked as paid which means that it has arrived at the destination bank. 
Withdrawn - A withdrawn payout is always a negative amount. It is money that has been removed from your bank account and pulled back into your ShootProof Pay balance. This happens when your ShootProof Pay balance becomes negative due to a refund or a disputed charge. 
Failed - Payouts may fail for several reasons, such as an incorrect bank account number or a closed account. In the event that a payout fails, you'll be notified with more details via email. You can also see those details by clicking on the payout in your ShootProof Pay portal. You will need to update your payout information to resume your automatic payouts.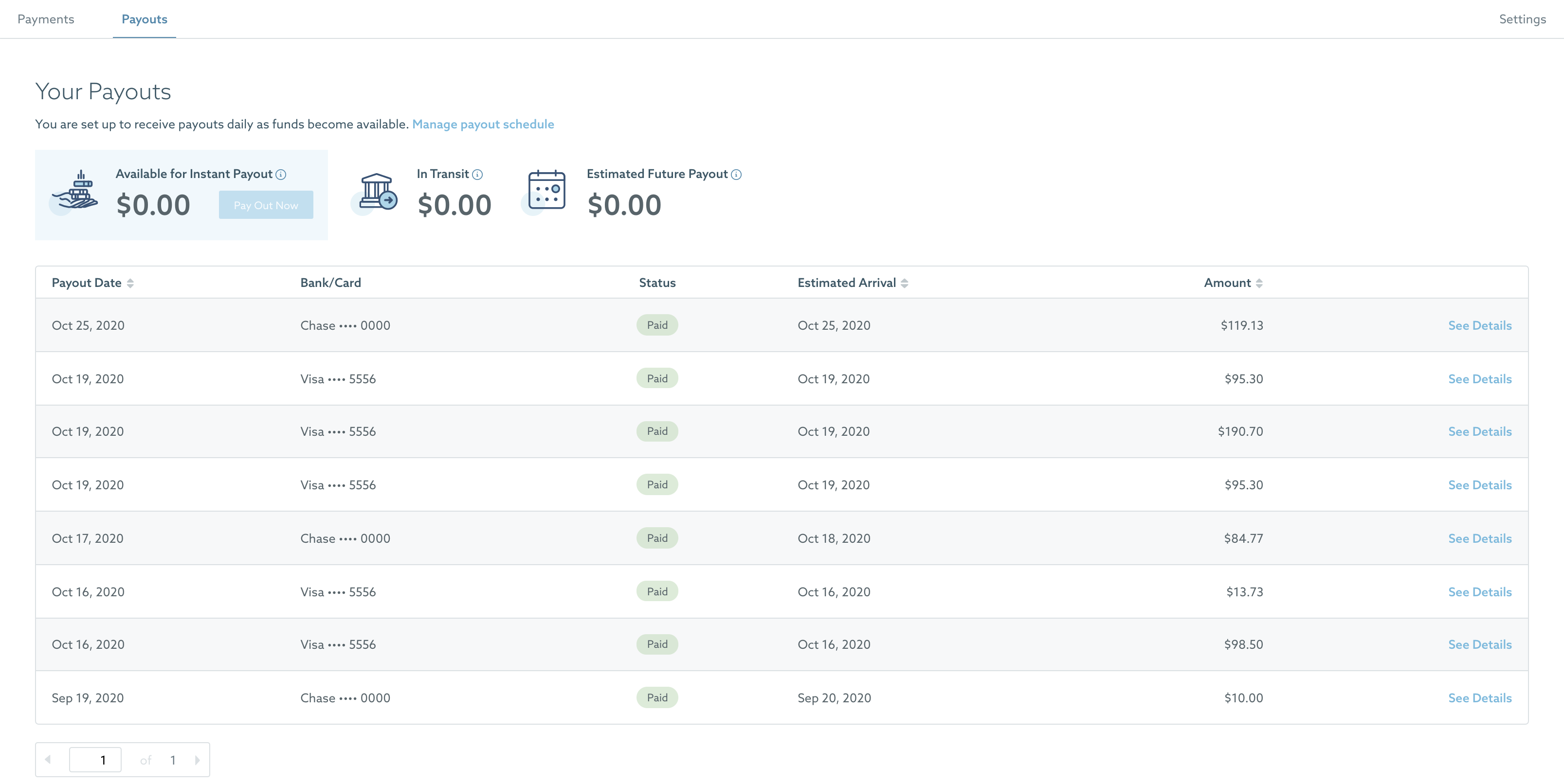 Instant Payouts
If you're eligible for Instant Payouts, you can request available funds to be sent directly to your debit card. Studios in a paid ShootProof plan have access to Instant Payouts (this excludes studios in the Free Plan or still in their 14-day trial). Funds become available for Instant Payout 2 days earlier and are subject to a 1.5% fee (with a minimum of $1.50 per payout). The minimum payout amount is $5.
On your Payments page, you'll see your total available balance, as well as the amount eligible for Instant Payout.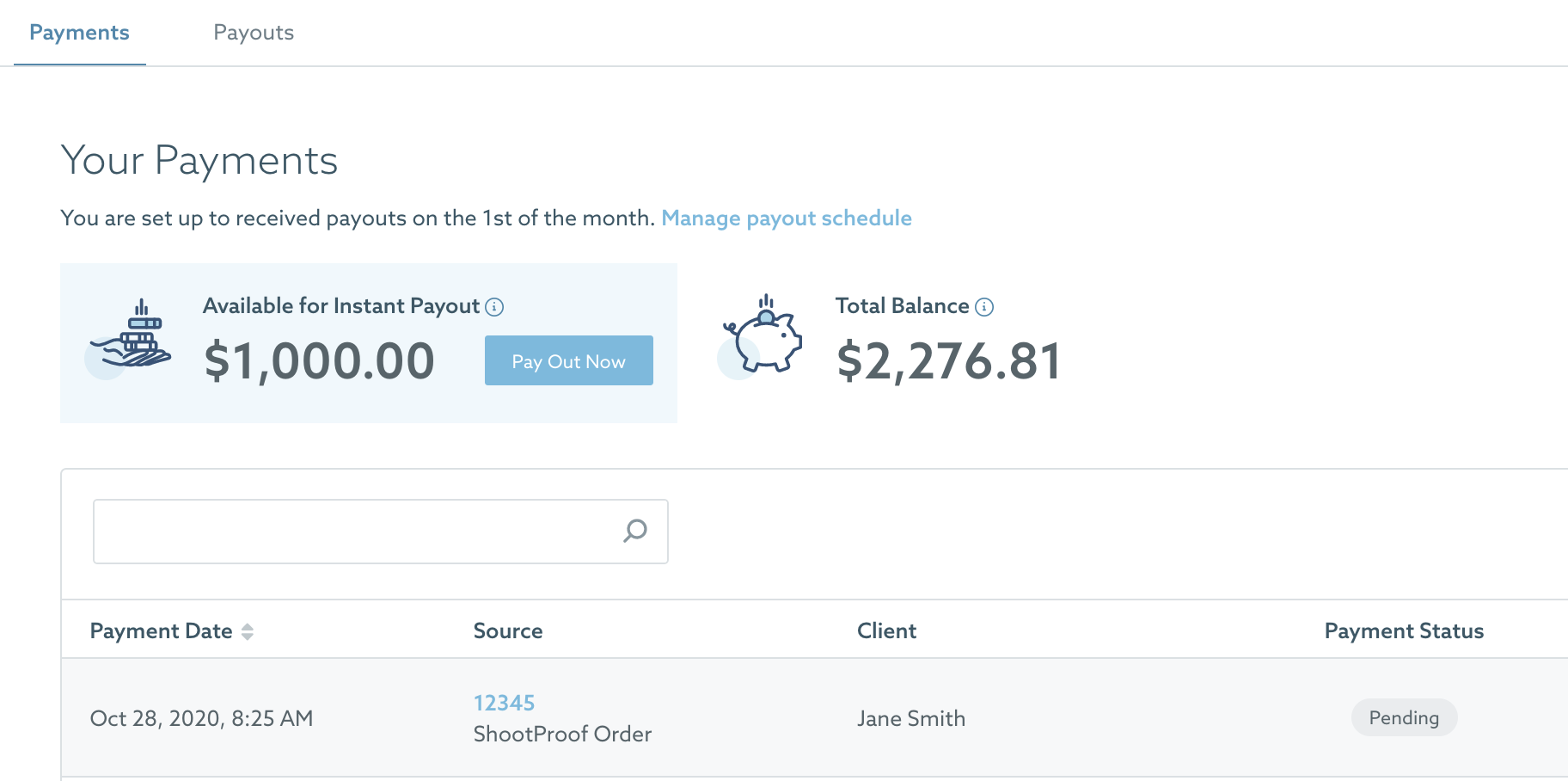 If you'd like to take advantage of Instant Payouts, click Pay Out Now. Request all available funds, or enter a custom amount. 
Because banks rely on time-consuming ACH transfers for transferring money, instant payouts are sent to a debit card instead.
You must have a debit card on file in order to take advantage of Instant Payouts. Click Add Debit Card if you don't already have one on file.*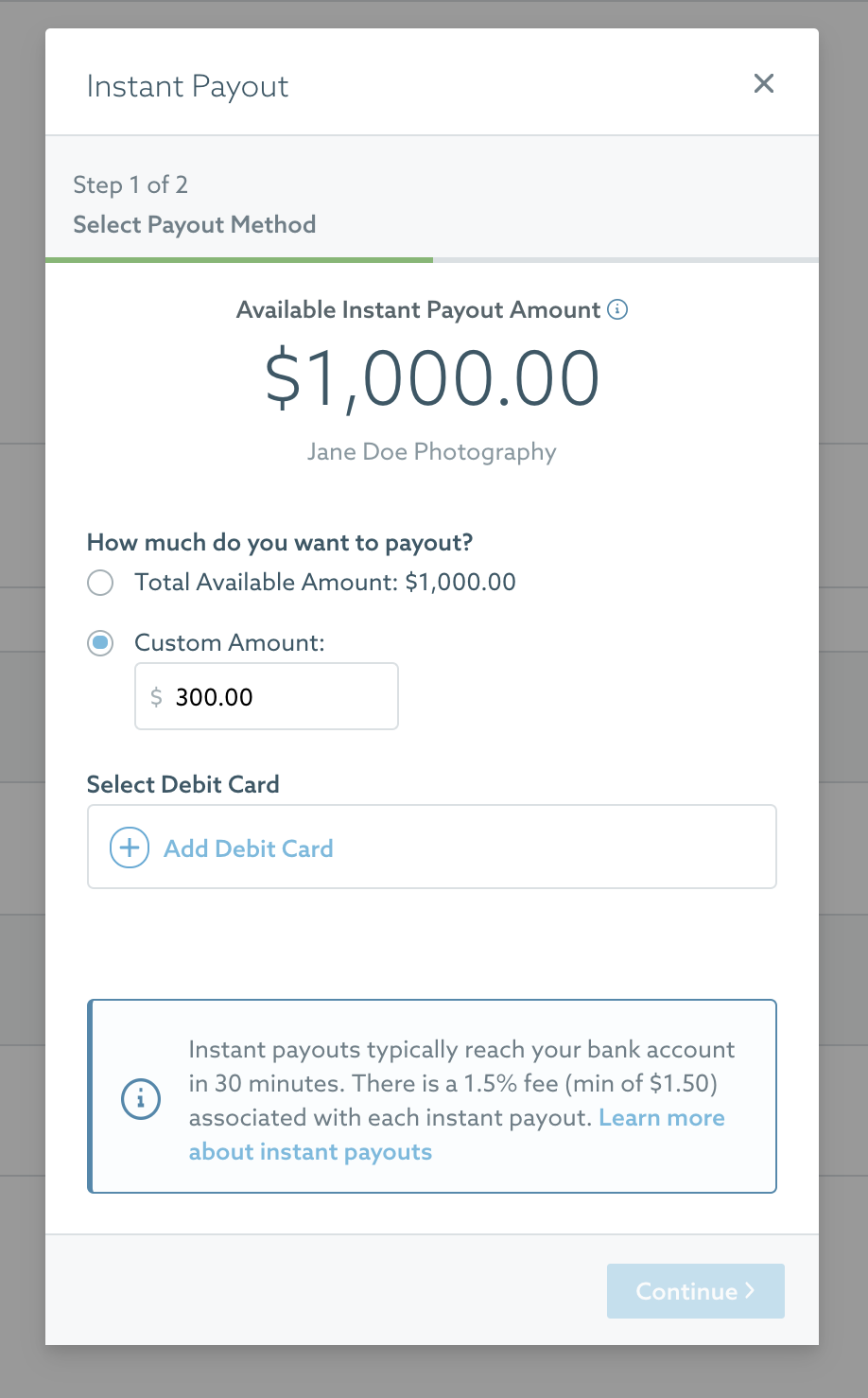 After adding your Debit Card, you'll receive a confirmation with payout details, including the 1.5% Instant Payout fee. Click Payout Now and the funds will become available on your debit card within 30 minutes.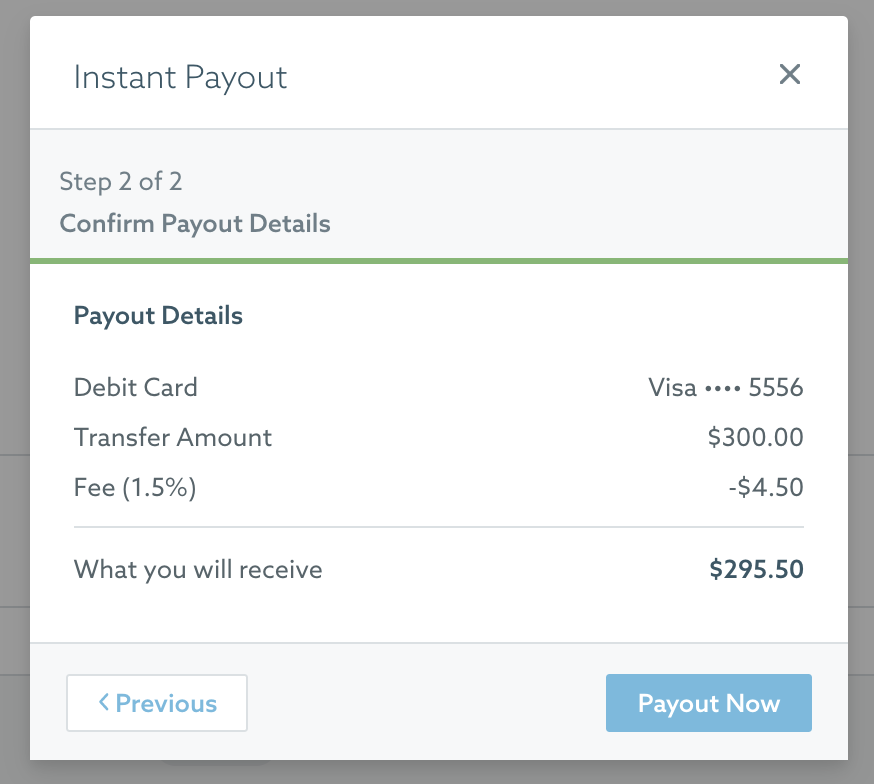 Negative ShootProof Pay balances
Your ShootProof Pay balance may fall below $0.00 for a few reasons:
You refund a client and don't have enough funds in your ShootProof Pay account to cover the refund
You don't collect enough funds from a client during checkout to cover your lab costs
Your client disputes a charge for an order or invoice
In the event that your ShootProof Pay balance falls under $0, Stripe will debit the necessary funds from your bank account in order to bring your balance to $0 the following day. This is done via ACH, so you'll likely see the transaction reflected on your statement in 2-3 business days. 
In the example below, a refund was issued to a client in the amount of $600.00. Stripe withdrew $582.30 ($600.00 minus the 2.9%+$.30 processing fee) from the bank account the following day in order to cover the funds needed for the refund. This ACH withdrawal will appear on the bank statement within 2-3 business days.