Bay Photo offers several add-on options, such as mounting and texture options, color correction, and boutique packaging. These add-ons can only be added to orders by the studio after the client has placed the order. 
In this article, you will learn about the following add-ons for Bay Photo:
Adding Mounting & Texture to Prints

Mounting Options
Bay Photo currently offers 8 types of mounting for photographic print orders through ShootProof. Print mounting is a process where photographic prints are mounted to a substrate (matboard, styrene, foam, etc.) to enhance the presentation of the print and increase durability. 
2mm Styrene Mounting (White or Black) - Styrene is a super smooth plastic mounting substrate known for its durability, rigidity, and strength.

Gator Foamboard - Gator foamboard (or Gatorfoam) is a very rigid foamboard and lightweight backing with a matte black finish. 

Masonite Mounting - Masonite is a heavy-duty, rigid, and durable mounting material. This high-end material adds weight to your presentation for a finished product with long-lasting durability.

Canvas Board Mounting - Canvas board is made by bonding a print on Professional Photo Paper to a museum-quality canvas or printing a Giclée Fine Art Print directly onto canvas material. The print is then mounted on Gator Foamboard. It is durable and will not warp. 

Stretched Canvas Mounting - Stretched canvas mounting is made by bonding prints on Professional Photo Papers onto museum-quality canvas or printing Giclée Fine Art Prints directly onto the canvas material. The resulting prints are then stretched and stapled onto a wood artists stretcher bar frame, making it suitable for framing or displaying as-is.

2/3" or 1-1/2" Standout Mounting (Black, Brushed Stainless, Maple, or White) - Standout mounting has finished edges in the selected color, giving a contemporary look to unframed images. 

3/4" Bamboo Standout Mounting - Prints are mounted onto a sustainably harvested solid Bamboo panel.

Texture Options
Canvas, pebble, and linen textures can be applied to the surface of prints for an added effect. Surface textures add copyright protection as well as a professional touch to your photographic prints. 
Each texture can be seen below:
Adding Mounting & Texture to Prints
Mounting and texture options can be added to items in an order by clicking the Edit Item button on an individual item. The available mounting and texture options will show for the selected, along with the associated cost. Options and prices vary based on the print type and size.  
Note: Mounting is not available for wallets or the following print sizes: 3.5 x 5, 20x36.
Texture is not available for the following sizes: 30x30, 20x36, 30x40


Color Correction
Color Correction is an optional add-on when fulfilling orders with Bay Photo through ShootProof. With Color Correction, each image in your order will be individually color-corrected by Bay Photo's experienced technicians. This includes adjustments for Lightness/Darkness, Red, Green, Blue, Saturation, and Contrast. Each image is viewed and color corrected by hand. Bay Photo calibrates their machines regularly throughout the day to ensure consistent results. 
The price for color correction from Bay Photo is based on the largest item per unique image in your order. This means that if Image A were being printed at ten different sizes in a particular order, you would only be charged one time for color correction for that file, with the price being based on the largest size being ordered. See prices below: 
| | |
| --- | --- |
| Size | Price |
|   Wallets | $1.00 |
|   4 x 6 | $0.25 |
|   5 x 7 | $0.25 |
|   8 x 10 | $1.00 |
|   8 x 12 | $1.00 |
|   11 x 14 | $1.00 |
|   16 x 20 or larger | $2.00 |
You can add and view the cost of Color Correction on the Approval page for an order. 


Boutique Packaging 
Your prints deserve a beautifully polished presentation! Bay Photo's Boutique Photo Packaging can be added to most standard-size print orders for that perfect finishing touch.
Available in sizes 4x6, 5x7, 8x10, 11x14, and 16x20 in varying depths to accommodate most orders
The lab will choose either a boutique folder or boutique package, depending on the items in the order
Crafted from textured paper stock
Boutique folders and boxes are enclosed with cotton ribbon
With boutique folders, prints come in clear bags within the folder (no tissue paper included)
With boutique boxes, prints are in clear bags and wrapped in tissue paper within the boxes 
Bay Photo will use the packaging (boutique folder or boutique box) that best fits the largest size print in your order up to 11x14 in Kraft or Black, or up to 16x20 in Chocolate. Boutique Packaging adds $6.25 to your lab order cost and can be added on the Approval page for an order. If you do not see the option for boutique packaging on the Approval page, then the order is not eligible due to the size of the items.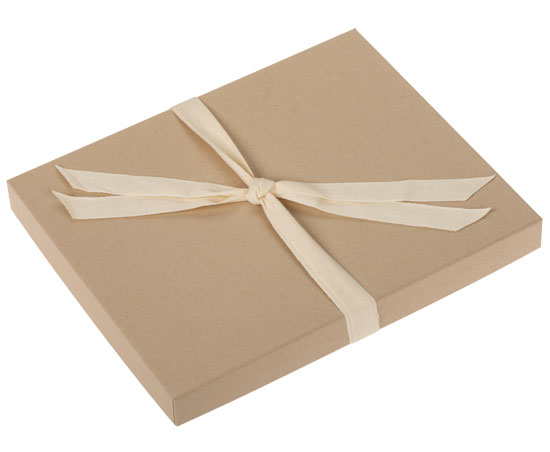 Eco Craft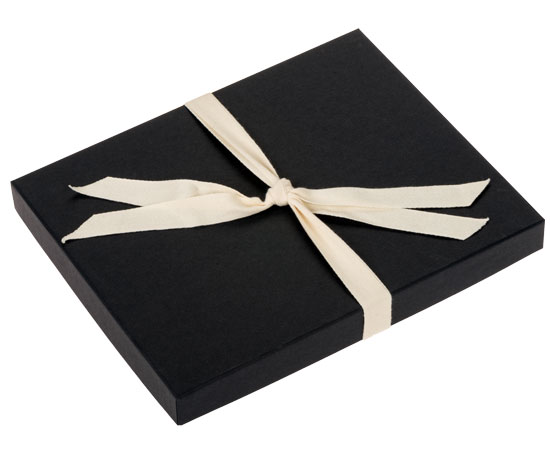 Black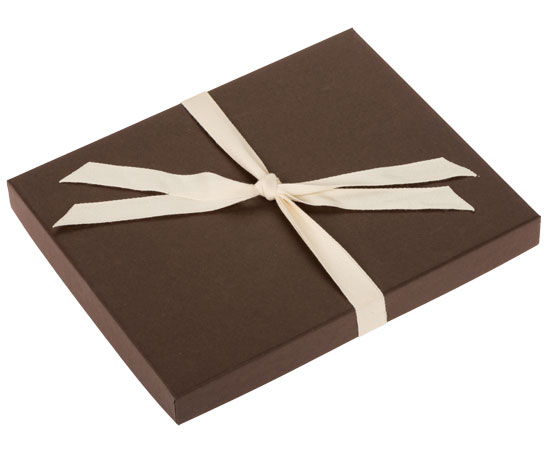 Chocolate