Perfect for studios who don't yet have a full website, the ShootProof Portfolio Website allows you to showcase your work and connect with potential clients on the same platform where you deliver and sell photos.
While not a fully customizable website solution, the Portfolio Website does give you control over design and layout, a place to share brand information, an About page, and a contact form allowing prospects to easily reach you
Your Portfolio Website is found at "yourshootproofusername.shootproof.com". You can view it by going to Studio > Portfolio Website > View Portfolio Website.
Please note: Only Public Galleries appear on your ShootProof Portfolio Website. If you mark a gallery Private, it will not appear on your Portfolio Website. To make a gallery Public, go to Photos > Galleries > Actions > Settings > Access & Privacy.


Click here to watch the Portfolio Website webinar.
In this article, you'll learn how to control the following settings:
To customize your Portfolio Website, go to Studio > Portfolio Website. Then configure the following settings:
Design & Layout
In the Design and Layout block, set your brand color and logo by selecting the color set you'd like displayed on your Portfolio Website.
Next, choose to have galleries displayed alphabetically (A-Z or Z-A), or chronologically by shoot date (newest to oldest or oldest to newest).
Optionally add text to your portfolio website. This text will appear at the top of the page, above your galleries.
Pro tip: Click the keyboard icon to see shortcuts for all formatting options.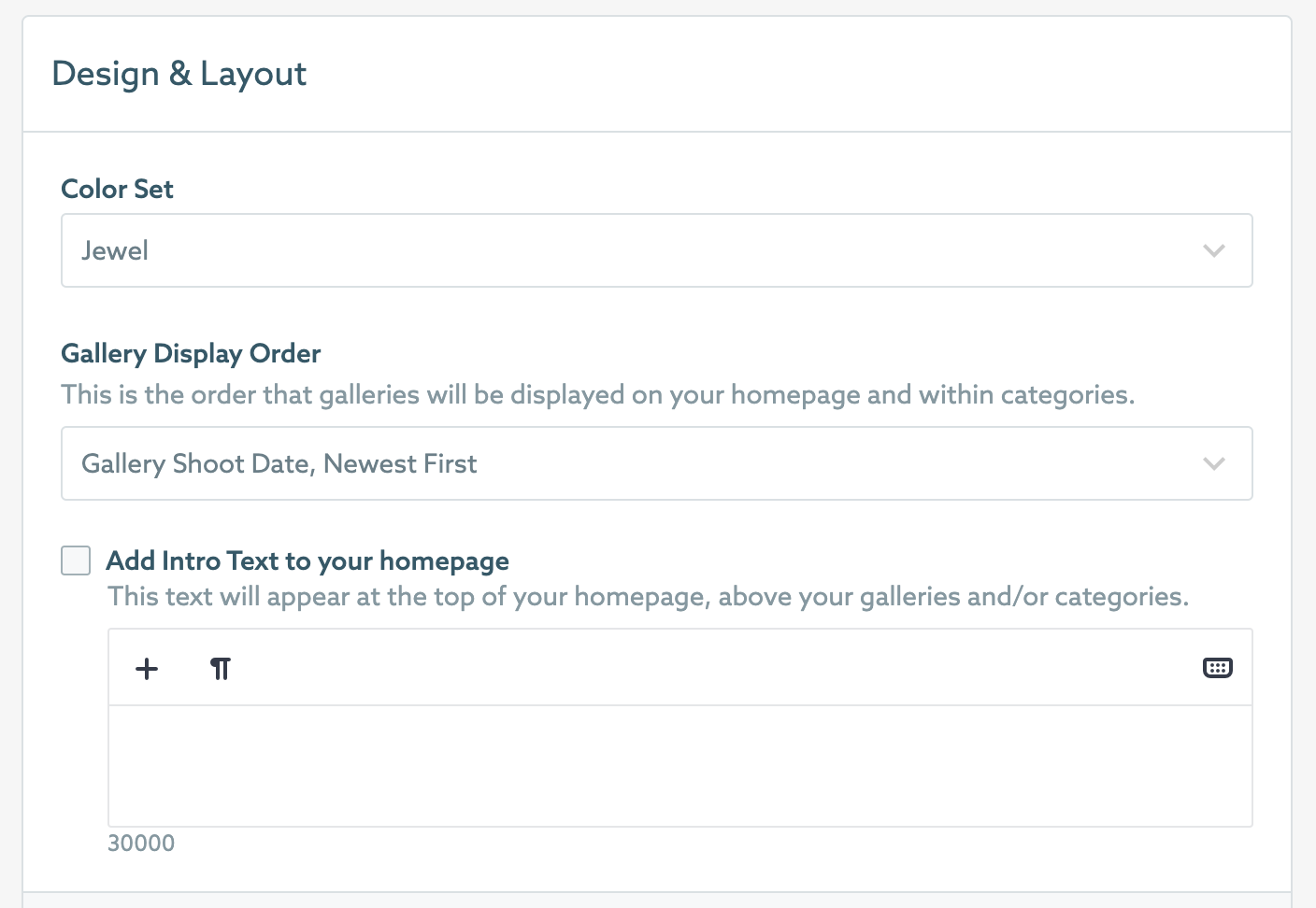 Categories
Your Portfolio Website can include all of your Public galleries listed individually, or by Categories of galleries (or both). For example, you may wish to group your galleries by genre: Wedding, Family, Newborn, and Seniors. When clients click a category, they're served all of the galleries you've included in that category.
In the Categories block, click Manage Categories.
Click Create Category, enter the Category name, and optionally upload a cover image. This image will be the cover photo for the category.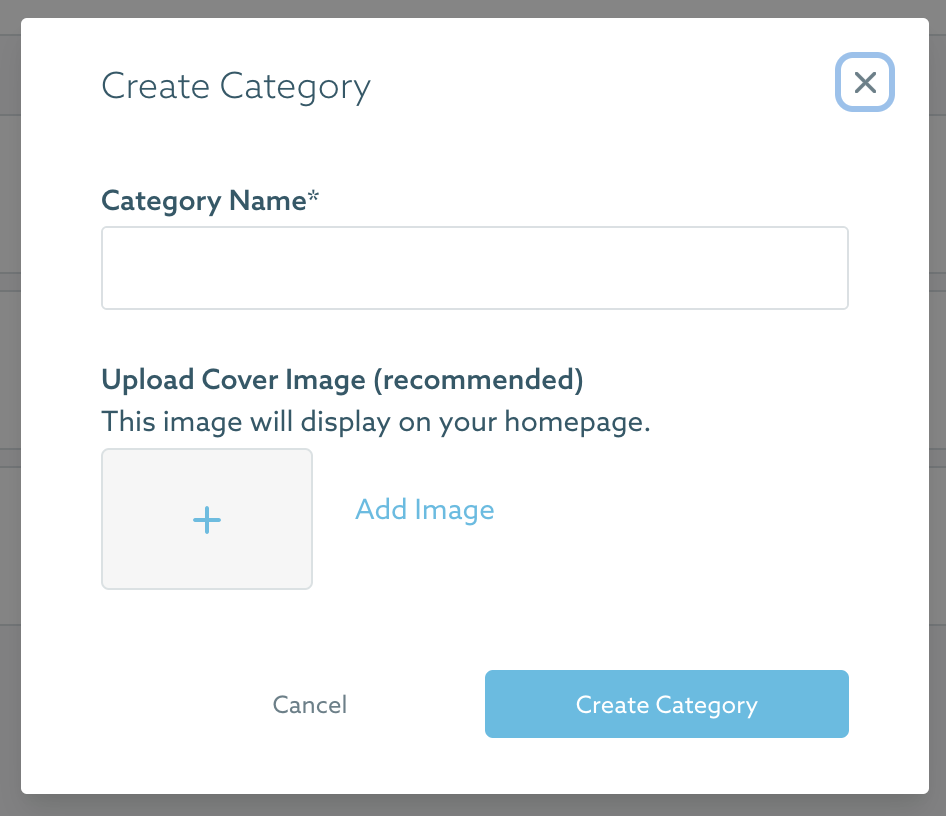 Drag and drop the categories to change their display order.

To add galleries to a category:
Go to Photos > Galleries.

Select the galleries you'd like to add to a category.

Click Actions > Bulk Actions > Advanced Settings > Select a category > Apply Changes.
Optionally assign an individual gallery to a category by clicking Photos > Galleries > Actions > Settings > Advanced > add to Category.
If you have Public galleries that are not assigned to a Category, the individual gallery will appear beside or under the Categories.
Once you've created and populated your Categories, toggle on the Enable on homepage button.
Brand Information
Select the information you would like to include on your ShootProof Portfolio Website. These details can be edited under your Brand Contact settings.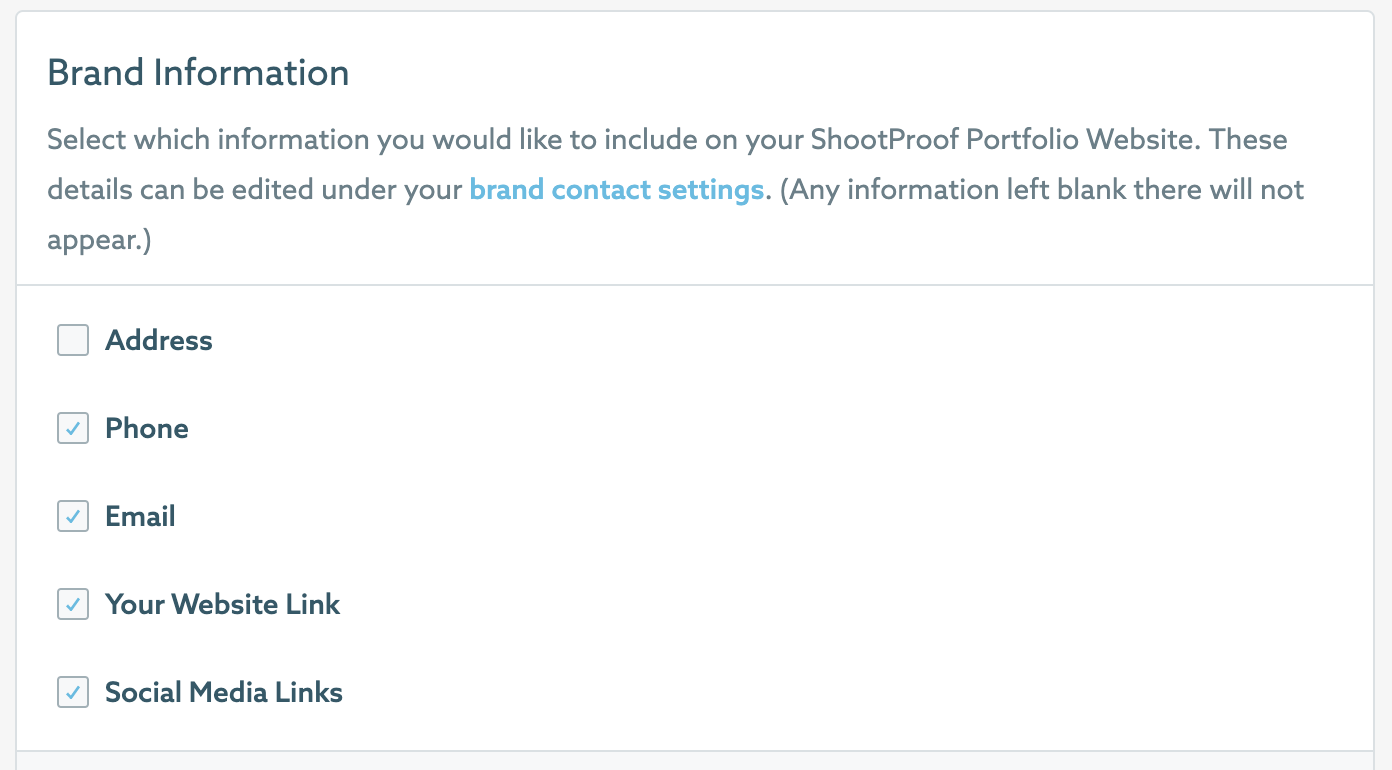 About Page
Enabling the About Page adds a new tab to your Portfolio Website. Here you may add information about yourself and your studio, your brand philosophy, and the services you offer. Use the keyboard icon to format your text. Optionally add an image to appear above the text. Your logo will already appear at the very top of your Portfolio Website, so you may want to add a different image here, such as an image of yourself or an example of your work.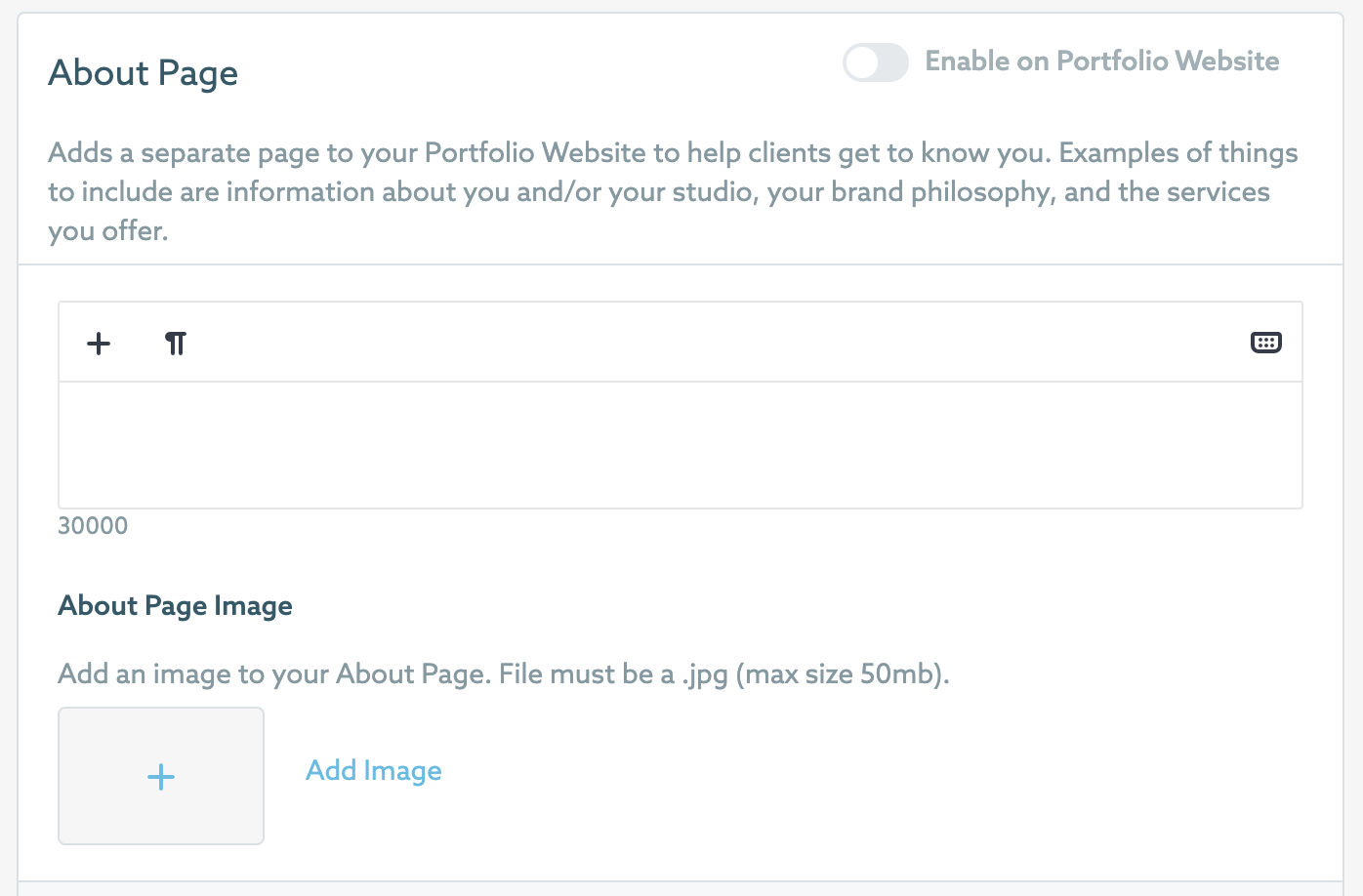 Contact Page
Optionally enable a Contact Form on your Portfolio Website, giving prospects an easy way to email you. When this option is enabled, visitors to your Portfolio Website will see a Contact tab, where prospects enter their name, email address, and message. Each time someone fills in the form, you'll receive an email at your brand email address.
To enable the optional Contact form, go to Studio > Portfolio Website, then click Enable Contact Page.
If you have multiple brands in your ShootProof account, set up Contact forms for each brand.



Additional Settings
Your Default Domain is your brand name by default. The URL will be "yourbrandname.shootproof.com". You can enter a different default domain, but be aware that changing the domain name will break any gallery links you've previously sent to clients. If you change the domain, you'll need to resend all previously shared links.
If you have a website/domain name outside of ShootProof, the Custom Subdomain option allows you to use your brand's URL (instead of shootproof.com) in your gallery and mobile app links. Learn how to set up a Custom Subdomain here.
A Google Analytics Tracking ID is a unique identifier that allows Google Analytics to collect data when inserted into a website. This data includes the time users spend on a webpage, search terms used, and how they came to the site. The tracking code is the mechanism by which Google Analytics compiles data. If you have a Google Analytics Tracking ID, enter it in the Google Analytics Tracking ID field.