*This feature is not available in all plans. To see the different plans or make changes to your plan, go to the Plan & Billing tab in your account.
Miller's offers prints, fine art prints, canvases, and metal prints through your ShootProof price sheets. 
See product details below.

Prints
Miller's offers four paper types in various sizes that can be added to your Miller's price sheet(s) in ShootProof:
Standard E-Surface prints -  Kodak Professional Endura Premier Paper (Traditional E-Surface Paper) is the most popular paper used by professional photographers. It boasts accurate color, realistic saturation, excellent neutral flesh reproduction, and great intensity.
Metallic prints - Metallic paper features a unique pearlescent surface with ultra-bright backgrounds.   It uses a patented combination of film and laminate layers, resulting in striking three-dimensional images. It offers natural- looking flesh tones, sharp details, and beautifully-saturated colors. Metallic paper is resistant to tearing and curling without any additional lamination.
Deep Matte prints - Fuji Crystal Archive Deep Matte paper is the premier matte paper used by professional photographers. Its deep matte, lustre-less surface creates tremendous visual impact and produces rich color with pure whites and sharp text quality.
True B&W paper - Ilford True B&W paper is designed to make black, continuous-tone prints, while avoiding color tints. This Panchromatic, resin-coated paper provides excellent tone reproduction and uses a silver-based emulsion rather than dye-based.


Click here to view the available mounting and texture options available through Miller's + ShootProof:Mounting & Texture


Fine Art Prints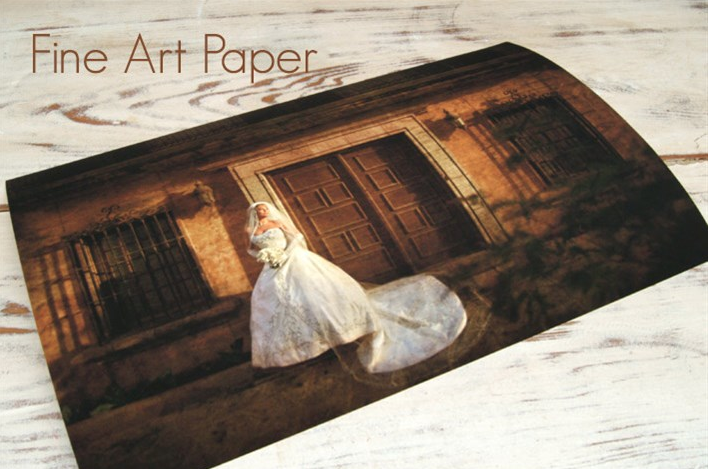 Miller's Fine Art Paper has a light, watercolor texture and delicate feel. Your image is printed on this matte paper with a large inkjet printer, creating a stunning Giclee print that will last for years to come.


Gallery Wrap Canvases
Miller's offers two types of gallery wrap canvases through ShootProof:
Classic Canvas - The Classic canvas Gallery Wrap is a white poly-cotton blend matte canvas that meets the archival standards for pH and lightfastness.
Pearl Canvas - This vibrant substrate features a pearlescent surface that adds a dynamic element to this traditional piece of wall art. Its water-resistant finish has a heavy, flexible weave.  Pearl canvas meets the Archival Standards for pH and lightfastness.
Once printed, the canvases are wrapped around a 1.5" stretcher frame and finished off with durable black backing. Gallery wraps are delivered ready to hang with saw tooth brackets for size 20x24 and sizes and wire hangers for size 20x30 and larger.


Metal Prints
Experience your images in a new definition and clarity with Vivid Metal prints. These show-stopping conversation pieces add an artistic edge and contemporary elegance to your photography while offering clients a unique high gloss wall art option. These are available with two base options:
Metal Base with FloatMount- Choosing a Metal Base allows the natural metal color and texture to come through. This adds an iridescent sheen and an ethereal glow to any image and is perfect for the person who appreciates the raw beauty of the metal.
White Base with Float Mount- Choosing a White Base for your print creates a fresh, bright appearance allowing all the details of your image to shine through with crystal clear precision.
Hang Vivid Metal prints with ease using the ¾" thick float mount on the back of the metal itself. The ready-to-hang mount is positioned to meet both vertical and horizontal image orientations. The float mount is available on Vivid Metal print sizes 6x6 through 30x40.
On smaller metal prints, the metal easel shows off the print on any desk or flat surface. The metal easel will be adhered vertically and horizontally depending on the image orientation and is found on Vivid Metal print sizes up to 5x7.