For each gallery, you can choose one contact to be the Linked Contact. This individual can be given special privileges in the gallery, such as hiding photos, labeling photos, and accessing a gallery that is in Pre-Release.
Labels are customizable and are determined by you, the studio, when a Linked Contact selects photos in a gallery, the labels will be offered as an option. Labeled images can be viewed in the gallery in groups by the Linked Contact only. Other visitors to the gallery will not have access to the labels or the label selections.
Setting Up the Label Photos Privilege
Once you've linked the contact to the gallery and turned on the Label Photos privilege, you will create up to six labels in the Linked Contact area.
Click "Edit Privileges."

Create and save up to six labels.
The Linked Contact will need two things to label photos in the gallery:
The email address you have saved in his or her

contact file

The

Access Code

you have created
*It is important that you turn on the Email Required setting for the gallery so that the Linked Contact is prompted to enter his or her email address when entering the gallery.
Go to Photos > Galleries > Quick Actions > Settings > Access & Privacy to turn this setting on.
Labeling Photos in the Gallery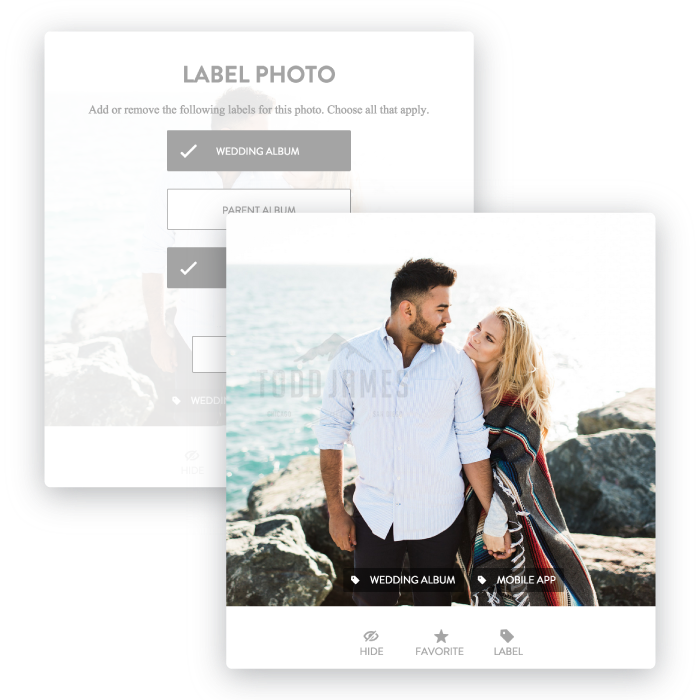 When the Linked Contact visits the gallery, he or she will enter the email address you have saved in his or her contact file.
The gallery will automatically prompt the visitor for the Access Code. The client can enter the code to enable the admin privileges, or the client can choose to Browse as Guest to simply enter the gallery as a regular visitor.
When viewing the gallery in admin mode, the Linked Contact can select an image in the gallery and then click the Label button to apply a specific label to the photo. Your client can use as many of the labels as necessary!

Viewing Labeled Photos
Both the Linked Contact and you, the studio, can see which images have been labeled in a gallery.
In the gallery, the Linked Contact will:
Click Favorites on the main gallery page

Click Labeled
In the Studio Panel, you will:
Go to Photos > Galleries > Gallery

Click the Linked Contact's name on the left.

Click on the label name.
Here, you can use the buttons to copy the filenames of the photos to your clipboard, create a Mobile App with the images, or send an email to the Linked Contact with a link to download the photos. You can also select one or more images to download directly.