*This feature is not available in all plans. To see the different plans or make changes to your plan, go to the Plan & Billing tab in your account.
In this article, you'll find answers to these commonly asked questions:
What does each email status mean?
Why are my clients not receiving my emails and how can I improve email deliverability for my hosted email address?
How do I resend digital downloads to my client? 
How do I check email status?
If your client hasn't received an email containing his or her digital download link, you can check the status of the email to see what may have gone wrong.
1. Go to Studio > Email
2. Find the email. (Use the Search & Filter button to help.)
3. Click the "Show History" link on the right beside the email.
What does each status mean?
If the email shows up as "delivered," the email was successfully delivered to the client. Have your client check their email filters and SPAM inbox to be sure the email didn't get sorted into a different folder. (Sometimes having the client search for the exact subject line of the email can help the email provider locate the email)
The "deferred" status means that the recipient's email server temporarily rejected the message. You'll see several attempts to send the email, each with it being temporarily rejected. ShootProof will keep trying to send the message until it goes through or we receive a final error message, at which point you'll see one of the aforementioned statuses listed beside the email.

If an email was Dropped or Bounced, you'll see a notification on your Dashboard, allowing you to proactively reach out to alert your client of the issue.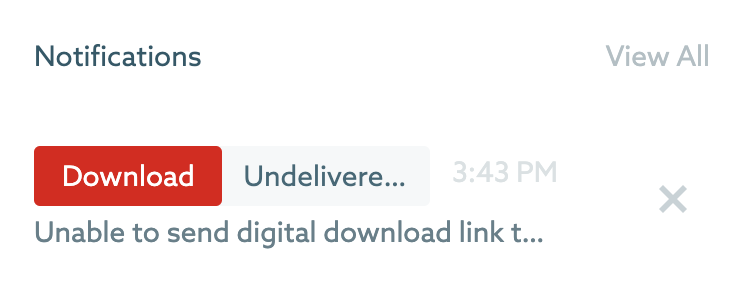 When emails show up as "dropped," it's because our system has been told to never try resending mail to that address again, and the address has been put on an internal block list. This client may have marked an email as SPAM or may have filters blocking emails that are sent from you through ShootProof. You can resend the digital download link to this same address after the client fixes any blocks/errors, or send the link to an alternate email address, by going to the order page and clicking the "Email" button in the top right. 
When emails are shown as "bounced," it means that the receiving server could not or would not accept the message at that time.  This often occurs when a client enters an incorrect email address upon download, or when they place their order. In this case, you can resend the email to an edited email address. 
Why are my clients not receiving my emails and how can I improve email deliverability for my hosted email address?
Click here to see some common reasons that clients aren't receiving your emails. If you're using a hosted email address, we recommend adding an SPF record to your domain to improve email deliverability. 
How to I resend digital downloads to my client?
If you need to resend your client's digital downloads, follow the steps outlined in this article.