ShootProof Pay is a payment processor, powered by Stripe, that is available to all U.S.-based studios. Use ShootProof Pay to collect Order and Invoice payments from clients quickly, safely, and professionally.

With ShootProof Pay, your clients pay for their order, with any major credit card, Apple Pay, or Google Pay within their gallery or invoice, creating a seamless client experience. We'll automatically pay the lab costs on your behalf, leaving your profit available for daily, weekly, or monthly automatic payouts to your connected bank account, or Instant Payouts to your debit card.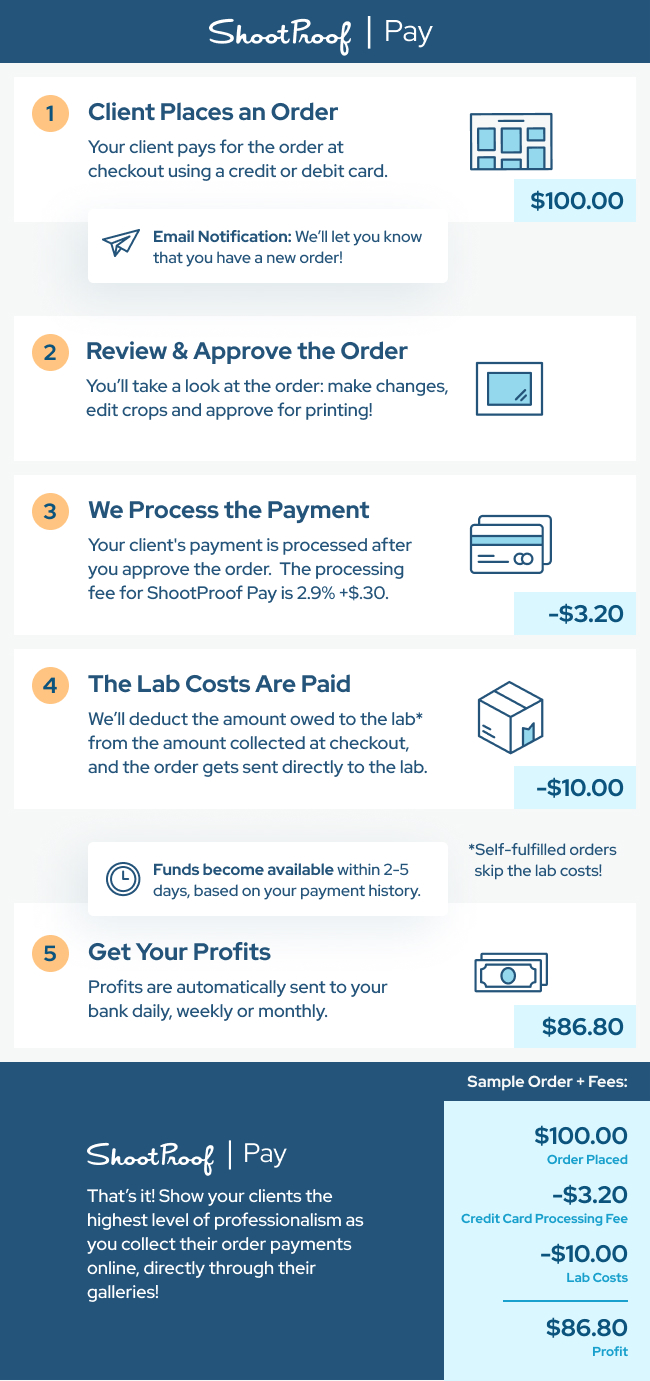 What payment methods can my clients pay with when I use ShootProof Pay?
When you use ShootProof Pay, your clients have the option to pay with any major credit card, Google Pay, or Apple Pay. To use Google Pay or Apple Pay, they will need to have one of those options enabled on the device they're ordering from. Then, if they checkout within a Safari browser, they'll see Apple Pay, and if they check out within a Chrome browser, they'll see Google Pay.


What are the fees for processing payments through ShootProof Pay?
The credit card processing fee for ShootProof Pay is 2.9%, plus $.30 per transaction.  With automated payouts, there is no additional fee to transfer funds from your ShootProof Pay account to your bank account.
If you're eligible for Instant Payouts, funds can be transferred directly to your debit card within 30 minutes. Instant Payouts are subject to a 1.5% fee, with a minimum of $1.50 for payout.
When will I receive my funds?
Payouts are available to you 2-5 business days after they are processed through ShootProof Pay. The more orders you process through ShootProof Pay, the sooner your funds will be available. Learn more about Payouts. 
Can I issue refunds with ShootProof Pay?
Yes, you can issue full or partial refunds to your clients directly from the order page for up to 180 days after Order or Invoice payments. Learn more about issuing refunds.
What is Stripe?
Stripe's payment technology is the platform for ShootProof Pay. Stripe makes it possible for your clients to pay quickly, easily, and securely online from right within their galleries and invoices. Learn more about Stripe.