Create a custom text or image watermark to apply to photos in your galleries, to deter screenshots, and/or include your branding on images.

Watermarks are always removed from images purchased for print before your files are sent to any of our integrated labs for printing.
Watermarks are always removed from images when your clients purchase ShootProof-fulfilled digital downloads.
You have the option to remove or keep watermarks on images that clients download for free through Digital Rules that you create.


To be sure your watermark fits your files correctly, we do recommend uploading photos to your galleries that are at least 3,000px on the longest side.


Add a Watermark 
Create and save multiple watermarks to choose from. To create one:
Go to Photos > Watermarks


Choose a Text or Image watermark



For image watermarks, we recommend uploading a high-resolution PNG file with a transparent background, though JPG files are acceptable as well. The maximum size we will scale your image up to is 1000px on the longer side, so if you upload an original that is at least 1000px, your watermark image will retain its original clarity. If you use a smaller file, the image may lose some clarity. 



Adjust the Watermark Settings



You can choose the position, size, and opacity of the watermark.

Click Save
This video goes over setting up watermarks in the second section. 
Apply a Watermark
Select a Default Watermark on the Watermarks page, and optionally turn on watermarks for all future uploads - you'll have the opportunity to turn watermarks on or off each time you upload new photos.
When you upload new photos to a gallery through the web-based uploader or the Desktop Uploader, the option to select one of your watermarks is on the upload screen.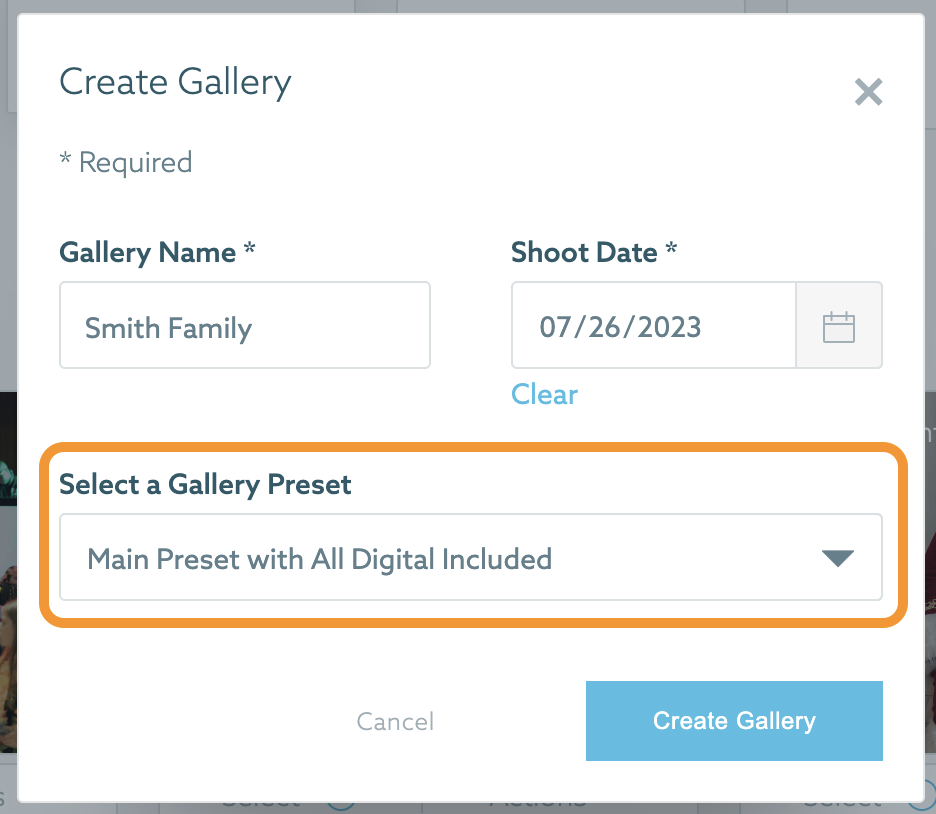 Change or Remove a Watermark 
Adding a watermark or editing an existing watermark will only affect the way that watermark appears in future uploads. Changes won't affect photos that are already in your galleries, but you can refresh the watermark to update it in the gallery. Here's how:
Go to Photos > Galleries and click into your gallery


In your gallery, click the More Actions button at the top right


Select Refresh Watermark


Choose the new or updated watermark you'd like applied, or turn the toggle off to remove the watermark


Click Apply Change
The photos will temporarily display as "processing." As the watermark changes are applied, you will see the images come back into the gallery.